Day-tour cabins - an easy entry into Norwegian outdoor life. Guaranteed to get you dreaming of your own hytte in Norway
'Hytteliv' and 'friluftsliv': to some extent untranslatable words. But both are very much part of Norwegian culture! They refer to the love Norwegians have for the outdoors, being away from the everyday chores and responsibilities, while socialising with family and friends. And now you can get a sense of what this means, by exploring the new Rogaland day-tour cabins. There are 20 delightful cabins dotted over the Fylke (county). And there are more to come.
The cabins invite everyone to experience these quintessential Norwegian concepts on a small everyday adventure. All are located in nature, in beautiful spots, often with stunning views. They are available to everyone, any day, free of charge. Their purpose is simply to encourage people of all ages and hiking abilities to enjoy walking. They serve as a great destination located between 15-90 minutes away from a trailhead.
The cabins have been thoughtfully, architecturally designed, and are very visually appealing. They are all identical. Inside, you will find a wood-fired oven, a small collection of books (including some children's books), a sitting bench, and a few chairs. Natural light streams in through large windows on three sides. For young ones, there is a small mezzanine floor where they can take a nap if needed. Additionally, there are cushions and blankets available to create a cosy atmosphere.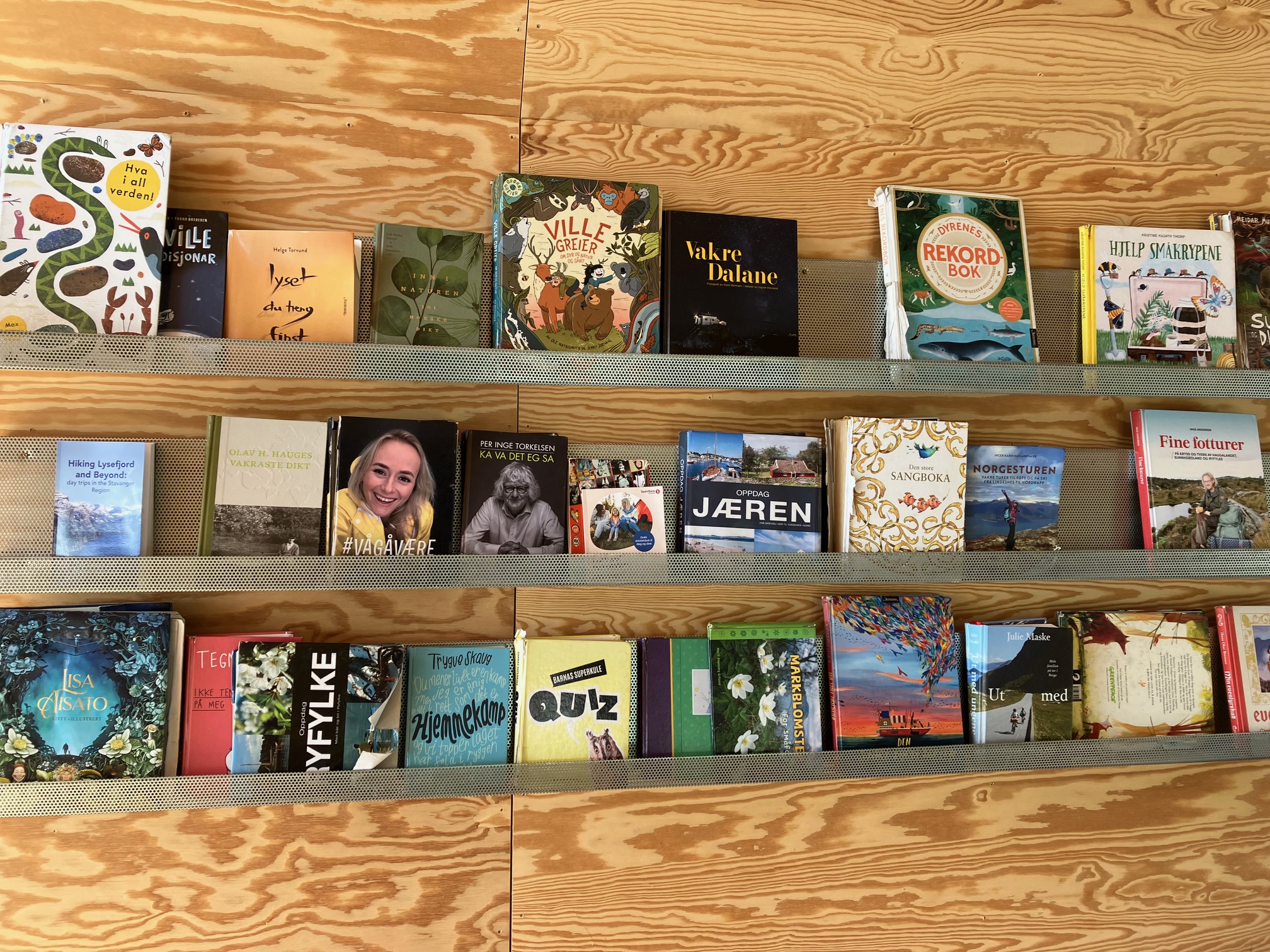 Outside, the cabin features benches to sit on. Some of them have a verandah type roof to protect against rain and sun. Since the sitting areas wrap around three sides of the cabin, you should almost always find a place to sit that protects you from wind, rain or too much sun. Savour your packed picnic while admiring the wonderful views, all while staying warm and dry.
One of these cabins is located near Dale in Sandnes, and is called Søsterhytta.  This one is an easy 20 min walk from the main parking area of Dale. The walk is marked with signs 'Søsterhytta'. Initially it is a wide gravel path, but soon becomes a little more narrow and stony. On the way, you will pass a small delightful beach framed by a shady forest. Worth exploring especially with children. If you can brave the water temperature you can wade or swim here too. Past the beach and bay the path starts uphill and becomes a more typically Norwegian hiking path. Continue uphill until you reach a plateau, then follow the sign along a small escarpment that you climb to reach Søsterhytta.
Søsterhytta overlooks the beautiful Gandsfjord. Stay as long as you please, light a fire if you brought wood along. Enjoy the books from the cabin library, bring some cards for a game or some pencil and paper for drawing. Or just sit and enjoy the view. All up to you. To return to Dale, take the same way back.
 This is a superb way to get started with an easy, short and accessible hike even for little feet or with people that have not had much hiking experience yet. The short hike is varied and interesting, with forest, the small bay and beach, and the short climb up to the hut with the rewarding views. Give Søsterhytta a go and you might find you want to visit more of these fantastic new day cabins around Rogaland!
To get to the trailhead:
There are different parking areas in Dale, so it can be a bit confusing when you first arrive. To get to the start of this hike, turn right at the roundabout as you enter Dale, then immediately take the first left, drive over the small bridge and through the archway of the next building. Cross this parking lot and drive up to the parking area further at the back (at the Dale cafe). Here you will find the sign to Søsterhytta in the western corner of the parking lot.
You can reach Dale by bus as well, buses run all weekdays at different intervals. Take line 29 from Sandnes bus terminal, all the way to the final stop at the Dale round-about.
There are only a few rules when using the cabins:
You can't bring shoes inside. There are shoe racks at the front door.
You can't stay the night, but little ones could easily have a day-time nap.
Take all your rubbish with you when you leave - leave the cabin as you would like to find it yourself.
And remember to respect others that might be using the cabin while you are there.
Want to know more about the day tour cabins?
https://www.rogfk.no/vare-tjenester/kultur-idrett-og-friluftsliv/dagsturhytta/
Looking for more hikes in the Region?
Andre liknende nyheter
What's on
Here you can find an overview of the webpages where all the events happening in the Stavanger region are posted! Go on, get busy exploring!
Sports & Outdoors
The Stavanger region offers majestic fjords, beaches and an impressive mountain landscape. Here you also find some of the most popular natural tourist…